Welcome
...to the new homepage of the Kennel Haiba Kaisoon!

Was long time ago, when Anke von Wyk still was in Germany, she created my first website, we have a long night sitting at the PC with 1-2 glass of wine, I was very proud Anke!
I am also thankful to Steffi Busch, who had a lot of work with updating the "old one", the last years. This detailed, in more than 10 years growing website is still here for my visitors, browse Here.
For the creation of the "New" I would like to thank Roger Schielke! And now I hope my visitors enjoy ...
News
Ring Training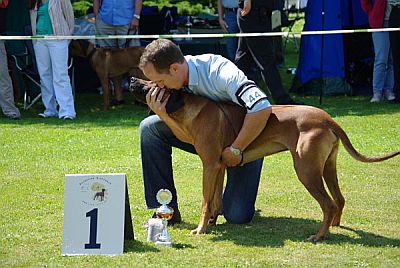 Many years before I wanted we would have a Showtaining for Rhodesian Ridgeback's and other dogs, now I do it myself as a coach in Essen/West-Germany since a few years. The participants are a friendly group and meanwhile a lot of them are successful on nearly every Show.

For more information see www.ausstellungshund.de.